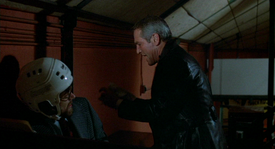 "
Lady of Spain
" was a popular song that was featured in the
1977
film
Slap Shot
. It was originally written by Tolchard Evans in 1931.
Slap Shot appearanceEdit
The organist was playing it as Reggie Dunlop entered the War Memorial arena. Reg raced upstairs and tore up the music, yelling at the organist to never play it again. Apparently Reggie hated the song.